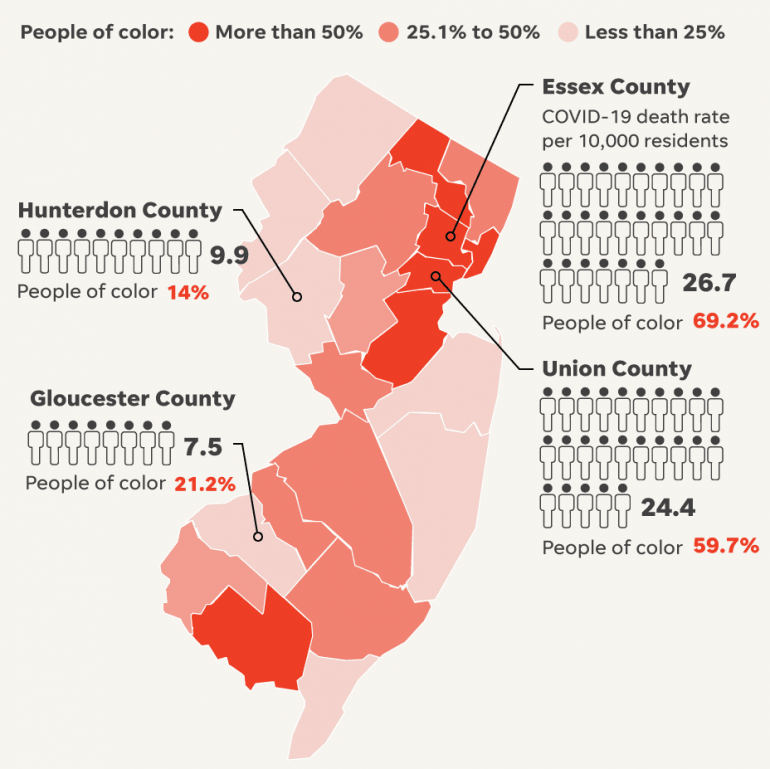 NJ COVID latest: Wednesday, August 18, 2021
NEW JERSEY — Below you will find the most up-to-date information on coronavirus news impacting New Jersey. You can find additional resources and coverage on our coronavirus page.
US health officials call for booster shots for all to battle COVID-19
U.S. health officials recommended all Americans get COVID-19 booster shots to shore up their protection amid the surging delta variant and evidence that the vaccines' effectiveness is falling. The announcement was made on Aug. 18.
August child tax credit payments issued: Here's why yours might be delayed
The second installment of expanded child tax credits was issued on Aug. 13 to millions of eligible families, but some payments will likely be delayed due to a technical glitch, the U.S. Department of Treasury said.
Schumer calls for federal crackdown on fake vaccine cards
The Senate's top Democrat says federal law enforcement officials need to crack down on fake COVID-19 vaccination cards being sold online.
COVID claims more young victims as deaths climb yet again
The COVID-19 death toll has started soaring again as the delta variant tears through the nation's unvaccinated population and fills up hospitals with patients, many of whom are younger than during earlier phases of the pandemic.
NJ county opens COVID booster shot appointments
Health care officials in a northern New Jersey county began offering COVID-19 booster shots to qualified residents on Aug. 14. Essex County Executive Joseph N. DiVincenzo, Jr. said appointments for a third shot of the Moderna or Pfizer vaccine were open at vaccination centers at Kmart in West Orange and Essex County College in Newark.
Concerts, outdoor events still risky as delta variant surges, experts say
Concerts and outdoor events are returning, and many are requiring proof of vaccination as part of new safety protocols designed to help prevent the transmission of COVID-19. But while experts say being outdoors is less risky in general, they continue to recommend additional precautions for those visiting crowded outdoor venues.
Biden weighs stiffer vaccine rules as delta variant spreads rapidly across US
When the pace of vaccinations in the U.S. first began to slow, President Joe Biden backed incentives like million-dollar cash lotteries if that's what it took to get shots in arms. But as new COVID infections soar, he's testing a tougher approach.
Who doesn't need the COVID-19 vaccine?
It has been eight months since the first doses of the COVID-19 vaccine were administered to health care workers nationwide. Since then, the vaccine has become available to anyone over the age of 12. Experts explain the few instances in which a person would not qualify for, or should delay getting vaccinated.
Extra COVID shot OK'd for those with weak immune systems
The FDA has approved an extra, third dose of the Pfizer or Moderna COVID-19 vaccine for transplant recipients and others with severely weakened immune systems.
Fake COVID vaccine cards worry college officials
With more than 600 colleges and universities now requiring proof of COVID-19 inoculations, an online industry has sprung up offering fake vaccine cards.
COVID vaccines would be required for military under new plan
Members of the U.S. military would be required to have the COVID-19 vaccine beginning Sept. 15, under a plan announced by the Pentagon on Aug. 9 and endorsed by President Joe Biden.
What to do if you lose your COVID-19 vaccine card
Don't worry if you've lost your COVID-19 vaccine card, there are several ways you can get it replaced. No matter where you got your shots, getting a replacement card is possible.
Will NJ reinstate a travel advisory?
Gov. Murphy said on Aug. 9, a new travel advisory is not off the table, but for now he encouraged mask wearing, which is mandatory in all airports and on flights, and other COVID safety protocols. "You gotta use your head," he added.
Will NJ mandate masks indoors?
Despite CDC data showing New Jersey falls under its guidance to wear masks indoors, Gov. Murphy said he will not yet mandate face coverings but added, "we leave all options on the table."
COVID transmission levels call for indoor masking under CDC guidelines
Indoor masking is advised in areas with COVID transmission rates considered "substantial" or "high" under recently updated guidelines from the Centers for Disease Control and Prevention. As of Aug. 8, all of New Jersey falls under those categories.
How do you know if you have the delta variant of COVID-19?
So you've tested positive for COVID – but which COVID exactly? Is there a way to tell if you have the highly transmissible delta variant? There is a way to tell, but there's not really a way for you to tell.
COVID breakthrough cases: Is one vaccine better than others?
COVID-19 breakthrough cases are rising, and now people want to know which vaccine offers the best protection from the coronavirus.
Are kids more vulnerable to the delta variant of COVID-19?
Hospitals around the United States, especially in the South, are starting to fill back up again as the delta variant tears though the country. With previous waves of infection, we've been most worried about the elderly being vulnerable. Now, it's younger people – even children – starting to show up in hospital beds.
US averaging 100,000 new COVID-19 infections a day as delta surges
The United States is now averaging 100,000 new COVID-19 infections a day, returning to a milestone last seen during the winter surge in yet another bleak reminder of how quickly the delta variant has spread through the country. The U.S. was averaging about 11,000 cases a day in late June. Now the number is 107,143.
NJ schools mask mandate: Teachers' union backs, Republicans slam Murphy decision
New Jersey Republicans have largely trashed Gov. Phil Murphy's announcement on Aug 6 that masks will be required in all schools in the upcoming academic year.
Gov. Murphy mandates masks in schools
In a reversal of plans, Gov. Phil Murphy announced on Aug. 6 a mandate for masks in schools for the upcoming academic year.
NJ health care workers must be vaccinated or tested for COVID-19
Gov. Phil Murphy signed an executive order on Aug. 6 mandating that all workers in state and private health care facilities either be vaccinated for COVID-19 or tested for it twice a week.
50% of U.S. population is fully vaccinated, White House says
The United States reached a vaccination milestone on Aug. 6: 50% of the population, all ages, were fully vaccinated, the White House COVID-19 data director confirmed.